Northern Classic Cabinets offers two staining methods on your exceptional cabinets. Two fade-resistant spray stains provide even, non-grain-raising color across all wood surfaces, while our thirteen premium hand-wiped stains penetrate the surface of wood to bring out clarity and beauty of the grain.
We finish the product using a water-based top coat that gives durability and clarity to the cabinetry. The final application of the clear coat is oven-cured using the latest in ultra violet technology. This process offers a beautiful, long-lasting finish that is dry to the touch as it comes off of our line.
Stains
Northern Classic Cabinets stained products and accessories consist of complete water-based stains applied on a state-of-the-art, flat line finish system. The stains are consistently applied with reciprocating spray guns with fine tip heads. Qualified personnel then hand wipe the wood for an even application of the stain. This will highlight the grain patterns and beauty of the wood.
All of the stains are designed exclusively for Northern Classic Cabinets and cover a wide spectrum of hues and tones. An in-house stain matching system is available to meet your needs for custom colors in a timely manner. 
Paints
Northern Classic Cabinets painted product and accessories consists of one coat of catalyzed primer and a top coat of pigmented conversion varnish to achieve the color selected. We use Sherwin Williams as a supplier to attain all colors offered. We use medium density fiberboard (MDF) as a center panel material to minimize the cracking on joints which is a common occurrence to the product in the environment.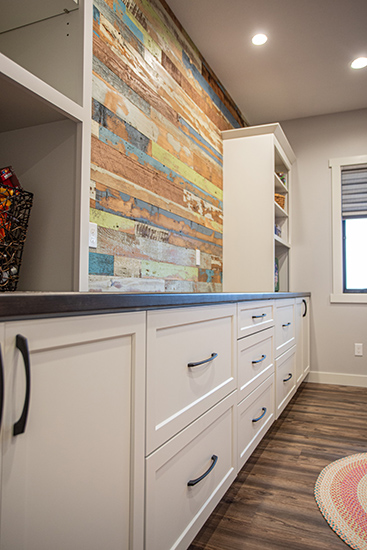 Profile Glaze
Northern Classic Cabinets offers a Profile Glaze on many select door styles and various accessories. Profile glazing leaves the base color of the finished product unchanged. The Profile Glaze is applied using a high-tech air brush system. It accents the details of the profiles to create visual contrast and depth.